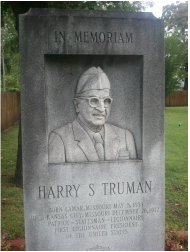 Dave got time with one of his favorite Presidents earlier in the week. This morning was my turn. In Lamar, MO is the birthplace of the humble haberdasher Harry S Truman, 32nd President of the US. Truman's parents bought this property for $685 in 1882. It came with six rooms, a well, smokestack and outhouse and was Harry's boyhood home only until he was 11 months old.

Why is Harry my favorite president? Why, for his most famous saying of course..."The Bark Stops Here". Dave says it really was "The Buck Stops Here", but caninely, methinks that's just the human media acting to keep us dogs down.

Tomorrow we hope to take in another birthplace, this one that lead to a famous 1970s TV series that was a combo of Breaking Bad, House of Cards and Game of Thrones...except it lacked action, plot development was far weaker and the acting pale in comparison. After all, this was the era of All in the Family, Mary Tyler Moore and Grizzly Adams. Any guesses?