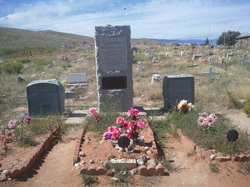 On Thursday, Dave biked through the Wind River Indian Reservation and made a five mile detour in Fort Washakie to visit the disputed burial site of Sacagawea, the Native American guide who helped Lewis and Clark on their 1804-1806 expedition. Set in a large Native American burial ground, a tombstone placed in 1963 lays claim to Sacagawea not dying as a teenager but instead living to 96 and expiring with her people. [Reference: http://en.wikipedia.org/wiki/Sacagawea]

Like all graves on the grounds, the burial dirt seemed more orange and clay-like than the surrounding gray ground and Sacagawea's burial was unique in being littered with pennies. If anyone knows the significance, please comment…by the way, we didn't see any gold Sacagawea dollar coins on the ground.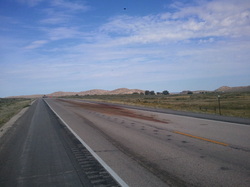 The picture at left is a sad one…on Thursday night, an elk met a semi. The elk lost. It did knock the semi out of commission however (seen being attended to by mechanics further uphill).

Then on Friday night, after three good days of biking, Dave met the China House AYCE (All You Can Eat) dinner buffet. China House lost.