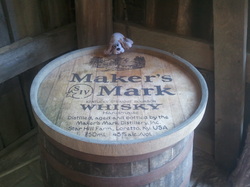 Kentuckians make a big deal about bourbon, so Dave and I did a little investigative work (purely for posterity) on our day off. In full disclosure...Congress declared bourbon "America's Native Spirit" in 1964 (sorry Wisconsin brandy fans). We learned that all bourbon is whisky but not all whiskey is bourbon. How so? Bourbon has to have a grain mix of 51% or more corn, must be made in the US, distilled at less than 160 proof, be free of additives except water to cut the proof and must be aged in new, charred, white oak barrels for at least two years. Rather complicated, but high standards help ensure a high quality product.

We stopped at Wilderness Trail, co-owned by a mechanical engineer and a biomolecular scientist, where Jared gave a great technical tour that expanded my knowledge of yeast...this company even has yeast in the International Space Station and someday hopes to make a Space Bourbon. In the interim, they are stuck shipping 40 tons of yeast a month to brewers (and to think home brewers need only a few ounces to make two cases of beer...) We then saw the hottest of tours - Kentucky Cooperage - where they make the barrels that are used to age the bourbon and later used by brewers to add bourbon flavor to stouts, porters, etc. A decade ago, these barrels were being given away after their bourbon days were done...now used barrels sell for as much or more than what the bourbon makers buy them for. Our last bourbon bop was to Maker's Mark, a high end, sweet mash maker of bourbon where the tour mixed tradition and technology, featured the only Dale Chihuly glass piece tied to alcohol and the only piece within Kentucky on a ceiling of a storeroom that houses some of the aging bourbon.

Interesting stuff to be sure, but Dave didn't like the bourbon one bit. Maybe if they made chocolate milk flavored bourbon...