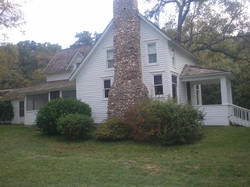 I have to throw out yesterday's question...the secret site visited today was not a birthplace of an individual leading to a famous 1970s TV series but was where the lead character spent much of their life. The answer?

If you guessed Ork, the planet that Mork from Mork & Mindy hailed from, congratulations! You win a creativity award. Truth to be told, the internal combustion engine on this two wheeler runs during the day on Pop-Tarts, chocolate milk and bananas and doesn't have the horsepower to get to Ork and back to a free Wi-Fi zone in a day for Dave to keep up with his blogging.

If you guessed the home of Laura Ingalls Wilder, writer of the books leading to "The Little House on the Prairie" series, congratulations! You win. Now stop that...stop that...there'll be no crying around here. No tears of joy, please. Heaven knows enough saline detritus dribbled down the cheeks of the show's stars each episode.

Laura and her husband Almanzo lived on Rocky Ridge Farm near Mansfield, Mo (pictured above) while raising their daughter Rose (a successful author in her own right) and stayed until their deaths. Ms. Wilder was actually born in Pepin, WI...I had forgot that. The house was something of a shrine, kept with mostly original furnishings from the 1950s (she died in 1957). It reminded me of seeing the Liverpool childhood homes of McCartney and Lennon, except that furnishing and accoutrements were rightsized to accommodate Laura's height of 4'11''. Pa's fiddle was on display in the museum as well....I didn't recall that from the series. I do remember lots of crying.