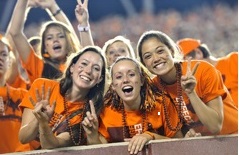 Dave and I took the morning off and found lots of hokie things walking around Brandsburg this morning. Hokie burgers, hokie haircuts, hokie shirts, etc. I suppose that makes sense given it's the Virginia Tech campus and their mascot is the Hokie. So just what is a Hokie? Today it is equivocated with a turkey, but its origins go back to the late 19th century when O.M. Stull won $5 in a contest to determine the school's spirit yell. In case you are wondering what that spirit yell is...
Hoki, Hoki, Hoki, Hy.
Techs, Techs, V.P.I.
Sola-Rex, Sola-Rah.
Polytechs - Vir-gin-ia.
Rae, Ri, V.P.I.
Later, the phrase "Team! Team! Team!" was added at the end, and an "e" was added to "Hoki." If a school as smart as Virginia Tech comes up with something like that, it sort of makes you wonder what your school has, doesn't it? For more details, please check out:
http://www.vt.edu/about/traditions/hokie.html
.