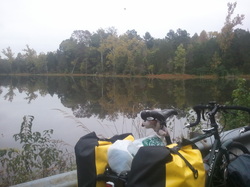 For the first time on this ride, I popped some Vitamin I (Ibuprofen) this morning to quell my fever and pushed off a little before 9AM in a drizzle. The TransAm route felt like it was taking me to Reykjavik, Iceland, down to San Gimignano, Italy and back to Richmond, so I opted for the straight route on a shoulder-less US 250. Thanks to the exit-intensive interstate running parallel, most drivers opted to go 70 over 55 with stops, so the ride was as pleasant as it could be in the rain.

After 50 miles, I reached the outskirts of chaotic western Richmond and found a car rental willing to do a one way. Riding a Toyota Prius for the first time, I loaded the bike and drove through the too-petrified-to-pedal city to the eastern edge where a lovely parallel bike path to US 5 snakes into Williamsburg. I ditched my panniers, packed some emergency gear and road energy-efficiently back towards Richmond and doubled back, making up most of the bypassed mileage. Even with a steel bike with fat tires, I was riding effortlessly. Surrealy easy. Fairly flat, woodsy off-auto path, light bike...my smiles-per-miles ratio was off the chart and I didn't want to stop.

Tomorrow I will bike south to Jamestown, then east to Yorktown for the Atlantic Ocean dip and then back to Williamsburg, making up for the rest of the lost mileage. Then the "home"-work continues, getting my bike and my butt back to Wisconsin. Oh, French Fry is still mad about having to pose for the Patriot scone hat thing, so I let him take today's pictures.