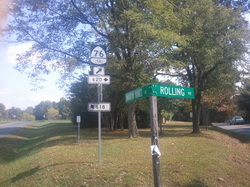 Exiting the
Appalachian Mountains
off the Blue Ridge Parkway on Wednesday, I felt a fever coming and it carried throughout the day on Thursday. The high humidity had me sweating on the uphills while the cool temps and steep downhill grades created a cold rush that gave me brain freezes without the custard creaminess. I tried the jacket off-jacket on thing, but gave up after a half dozen of the thirty or more peaks and valleys. When I finally pulled into an inexpensive motel off the Parkway, I was in a "bicycle island", five miles from civilization. That meant a ten mile round trip to food or drink, not feasible given the lateness of the hour or my energy level. So my only option was Dominos delivers…and although I enjoyed my two medium pizzas for dinner, it wasn't the sort of chicken soup recovery food probably needed.
So Thursday started in the hole and I hoped to cycle through the sickness to some civilization. High traffic and lack of safe shoulders encouraged me to try following the TransAmerica trail. This is also known as the 76 Trail for it was initially created as a scenic, backroads cross-country bike path during our bicentennial. I struggled, ending the day biking 80 miles but getting only 40 miles as the crow flies to my end eastern destination of Yorktown. Despite now having a state highway map and a state bicycle map, missing signage (and probably some of my ineptitude) led to getting lost far too often. I found myself after 4PM with three lodging options – risk camping in someone's backyard (not feeling well, so not a great choice), going 44 miles southeast to Richmond or backtracking ten miles northwest. Disappointed but realistic, I opted for the latter and made it to a Best Western.
The lack of better choices this far east has surprised me. I figured thicker population density would have meant more options for supplies and sleep….but it reflects on how "carified" the country has become in the last forty years. Think about it. Small town America used to have grocery, department and hardware stores and sometimes small motels but the Wal-Marts and Lowes located along Interstate auto-arteries have displaced them. Gas station mini-marts and dollar stores are now bonuses along the route. That leaves the TransAm/76 Trail a bicyclist's boonies – scenically satisfying but short on services.
All was not lost. I enjoyed biking through the U of Virginia with its colonial architecture and the swords representing the Cavaliers (their mascot) emblazoned on the campus roads. I stopped at Michie Tavern, an historic 18th century eatery now serving pricey buffets to tour bus traffic. The area boasts the homes of three presidents – Jefferson's magnificent Monticello (which I had previously seen), Madison's Montpelier (too far north) and Monroe's Ash Lawn Highland (on the TransAm route). I opted for the latter and found it wanting. It lacked context and could have been much more. History fans note that Monroe ran unopposed for reelection in 1820.
Unopposed!
Also, the Monroe Doctrine was never debated or signed into law…yet TR Roosevelt drew upon it to build the Panama Canal and Kennedy used it to justify the Bay of Pigs Cuban operation.