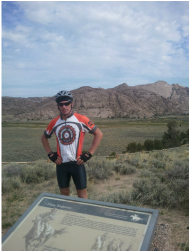 My pedaling picaresque continues across Wyoming. This entry covers Thursday and Friday…I camped Thursday night and am finding blog updating terribly time-consuming due to more horses in the fields than internet "horsepower" in the motels...leading to me having more time outs than a temper-tantrumed two year old. Phone connectivity is also not working...perhaps it is because Rawlins (which is on I-80) is home to the Wyoming Frontier Prison Museum and the cell technology here may still be 19th century.

I blog this from Rawlins, near the south central section of the state. Over the last two days, I've been blessed with awesome weather and beautiful scenery in logging 214 miles while climbing over 10,000 feet. Along the way, I've meet some great people and seen some interesting sights. A couple in an RV pulled along side me…the husband keeping up with my 16mph pace while the wife extended a tray of grapes for me to eat. At each stop (I'm a sucker for brown historical signs), people make conversation with "Where did you come from?" or "Where are you headed?" Mentioning San Diego last Saturday draws some high eyebrows and offers a chance for me to explain the desert debacle, give out my website cards and talk a bit about the purpose for my ride.

The open expanses of fields, occasionally filled with horses, remains pretty even after a few days. I also spooked an antelope out of the ditch as I rode past early Friday morning. I met a couple of nice guys biking westbound, both on Surly Disc Long Haul Truckers like me. Crossed the Continental Divide twice on Friday and spent time learning about the Oregon Trail (Split Rock Pass is photographed above). French Fry will cover the cultural and curios…one you won't find in the desert is the disputed burial grounds of Sacagawea as well as Who Wins? contest.