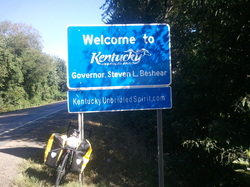 I was blessed with excellent weather again today and managed 96 banana pudding flat miles in biking through three states (MO, IL, KY); ending up in the little hamlet of La Center, Kentucky.

I enjoyed Missouri...the best motel breakfasts so far, nice people, manageable winds and mostly rolling hills. Crossing the Mississippi and Ohio Rivers into Kentucky (via Cairo, IL) has been an even more pleasant contrast, though I know the hills will come as I work eastward. Trees stretch high and hang over the road, long vowels are even longer, hon and sugar are tossed around more than as table sweeteners, catfish is king and peach cobbler and banana pudding are meals in themselves.

A few noteworthies on today's ride. My back tire got nailed this morning, hooking into my tube. Despite this being my fourth, I am far from a fast flat fixer. It doesn't help they've all been on the back. By the time I take everything off the bike, flip it over, take off the tire, diagnose the situation, replace the tube, reattach all parts and reload the bike, at least 45 minutes goes by. The other sad thing of note is on road kill. Eastern Colorado and Missouri has been full of it, but today I noticed less of the scattered carapace from armadillos, so frequent a find on the shoulders. Instead, I must have seen thirty caterpillars on the road...and super sadly, all but two were heading into the road, not towards the grass. Why did the caterpillar cross the road? I surely don't know. If you do, enlighten me.

I've touched on food on the ride, tomorrow I'll tap into hydration so you can hear my liquid lamentations. It surprised me how much I drank yesterday in the 90-90 afternoon (90F and 90% humidity). Thankfully today seemed a little less humid.