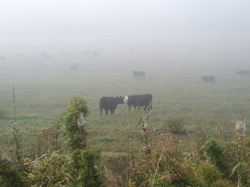 The weather continues to be great for biking in Kentucky. I worked my way eastbound on back roads, past curious cows (at left), determined dogs (in French Fry's blog), through thick forests and up and down many hills. The morning haze/fog/mist was intense and didn't burn off until almost 11AM, requiring me to ditch the sunglasses after spending the first hour wiping off the condensation off the lenses to improve visibility.

I had intended to stop after about 105 miles in Salversville, KY, a small town that had two motels based on printed literature and the internet. After another hour delay due to more tire troubles, I pulled into Salversville at 5PM and asked locals for their lodging locations. "The Tornado got 'em and they ain't been built back" was the same answer received from two different townsfolk. Must have been a doozy. Yikes...I had to hightail it another 20+ miles to Paintsville, KY as the sun was setting and opted for a Days Inn on the east side of town. Another 125 miler with over 5,000 feet of climbing was more than I wanted and I arrived too late to take advantage of a Saturday evening church service from the many small community churches in the area.

Tomorrow I hope to cross into West Virginia and aim southeast for Virginia and a date with the Smokies early next week.