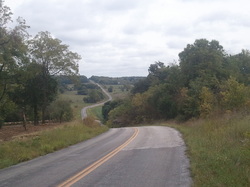 After severe thunderstorms overnight, the day proved muggy but dry. I biked 76 miles today, segued south off the TransAm to Springfield, MO and some civilization. I'm in the northern Ozarks and it is a stark contrast to all scenery to date. By way of example, one stretch had 1,500 feet of climbing in about eight miles without any material change in net elevation. The locals call there Scottish hills...defined as very steep ups and downs...somewhat analogous to Scottish music which can jump an octave in the same measure. In contrast, Irish hills (and Irish music) move more gradually up and down. However defined, they kept me engaged and a few of the rises proved to be walkupems.

There was a gas station in Ash Grove, northwest of Springfield, that contained some interesting signage that is included below. This includes a whiteboard record of the area's largest tomato (sliced with a chain saw) and greatest yield on field corn. There's also a sign from the next town over for an Alzheimer's Support Group...got me thinking now that I'm in the Show Me state. For those of you who have donated already to help the Fisher Center seek out the causes and a cure for memory diseases, Thank You! We are around $3,400 before match. That is GREAT! I will reach out to each of you once I'm done riding. For those who haven't given yet, no worries. If you choose not to give, perhaps at least pass along this web site to friends, family and co-workers. I'll do my best to keep it entertaining and the cause will strike a cord with some as these diseases influence many of us in one form or another in time.
Once in Springfield, MO, I took in a castle that sold a decade ago for $40,000, walked old Route 66, got a room where Elvis slept, relived my childhood playing 1980s video games and capped it off with a smoked Marzen beer from Springfield Brewing Company. A few details:

The Knights of Pythias built a castle in Springfield in 1913 as an orphanage. For more details, please see: http://www.pythiancastle.com/ or for a more informative history, try out Wikipedia at http://en.wikipedia.org/wiki/Pythian_Home_of_Missouri). The fascinating tidbit here is that the Army used it for POWs and for convalescing soldiers during WWII. In 1993, when the Army outgrew its usefulness, it was ordered to sell the castle to the highest bidder. Only one bid was received, from an unemployed local man who paid $4,000 for it. He hadn't expected to win. His wife was not happy. The first month's heating bill was $2,000 and he quickly had to find something to do with the facility. It served as an flea market for ten years before the present owner bought it for $40,000 in 2003. This lovely lady gave me the tour and relayed great stories on what happened during WWII and with her restoration efforts.

I next biked to a Best Western on Route 66, the 2,448 mile route connecting Chicago to LA that was fully paved in 1938 but made redundant by President Eisenhower (take that French Fry) in the 1950s with the establishment of the Interstate Highway System. It was also conveniently located an easy 2.5 mile walk into the pretty downtown area. I asked for the "It's My Birthday Tomorrow" special and the manager beat the AARP rate (that is coming painfully soon) and told me some history about the place, including that Elvis stayed in this motel. He then gave me the King bed room. How lucky is that? :)

I found out that 1980s videos games don't hold the appeal for me they did 30 years ago. The mechanized montage of really old games laid out in the store "1984" was really not that interesting, and Big Brother wasn't watching me. Maybe if they had Crazy Climber of Carnival. Grow up Dave.