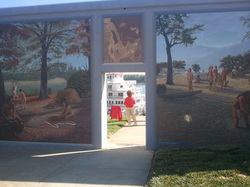 All things considered, I was happy to have moved 71 miles eastbound today after more tube and tire tribulations. I had three separate flats (all on the front, thankfully), pointing to a need to get some new tires. I'm cleaning my channel tracks and trying to go a little low on the psi as Kentucky has less shoulder and more rumble strips than any other state biked in to date, but I know the bike had taken a beating and it is starting to show. I started off this trip with three new tires and have been rotating them, but after over 1,900 miles, they appear to have worn out their welcome.

I re-connected with the TransAm trail in Marion, KY in the late afternoon and am staying at the local United Methodist Church...part of their outreach efforts is to put up cross-country bikers as there is no other lodging in town (or for 37 miles in the vicinity). Once in the church, the setup in almost hostel-like with a large sofa-filled fellowship room used to bunk down, a shower within the furnace room and really good cold water from the fountains. The Pastor is very nice and even offered to drive me an hour south to get some replacement gear (as I'm getting low on tubes too). I'm the only one here too as it's a little late in the year to be biking this route.

I promised to offer some insights into hydration today. Like the ennui of eating (quantity * frequency * being alone), drinking enough liquids can be a chore and one I'm not very good at. It's very important however, especially on the long, hot and/or humid days. So I kept track of my 112 mile effort on Saturday (afternoon temps peaked at 90F with humidity also around 90%), definitely a high consumption day. I ended up taking in 2.5 gallons of liquids...broken down as follows:

8 oz Green Tea (breakfast) 8 oz Orange Juice (breakfast) 16 oz Water (breakfast) 44 oz Electrolyte water (AM) 20 oz Water (AM) 24 oz Water (midday) 12 oz Diet Coke (midday) 48 oz PowerAids (midday) 52 oz Water (afternoon) 32 oz Chocolate Milk (dinner) 16 oz Water (dinner) 16 oz Herbal Tea (night) 24 oz Water (night).

What I wouldn't give for a kombucha from Tapuat or a craft beer every third day or so...yet stores here don't sell kombucha and beer is either 24oz Bud singles or six packs (which is far more than I want). So I stick to mostly water.