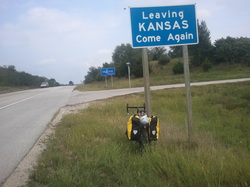 As if Mother Nature of Kansas opted to say "No hard feelings Dave, Come Again," I was blessed with a lovely moderate tailwind this morning, taking me to the Missouri state line. Appreciated, but no better than Final Four, Jayhawks. I will miss the people. I've had farmers in bib overhauls come to sudden stops on the roads, pop out of their trucks and say "Can I help you, young man?" as I tinker with my derailleur adjustments and senior ladies who see my forlorn face tell me to stay put while, despite polite rejections on my part, they run home to come back with ice cold water.

The southeast corner of Kansas has its own versions of many of the locals I hold dear in Wisconsin...there's a Franklin, Whitewater, Columbus and Fall River. On the Missouri side of the state line, there was also a sign for "Eve 1 mile" and I wanted to get a picture of Adam next to Eve but it was too small to justify an unincorporated sign.

It averaged 81F today, hitting a max of 90F but the humidity was over 90%. The good news is I could feel myself sweat. Sounds gross, but that didn't happen in the California pre-desert. That's not good. Rolled through another 109.6 miles today with about 1,500 feet of elevation gain. Leaving the Plains has meant more interesting biking with the modest up and downs (called "rollers" in bikespeak). They also tend to moderate the intensity of the winds.

French Fry and I are staying in the family suite at the super nice Super 8 in Lamar, MO. Only room left. To give you a sense for where I am, the motel directory lists 19 different churches located within the city proper. The town has 4,900 people and there's not much to draw from in the environs.

Today's interesting stop was Fort Scott, a National Historical Site on the Kansas side of the state line. It was one of several 1840-1860's frontier forts meant to enforce a "permanent Indian frontier" which was redacted around the time of the Civil War as America's manifest destiny pushed the Native Americans further and further west. The grounds were laid out with nearly 7,000 flags to honor each individual who has given their life in the War on Terrorism. On Saturday, they will read off each individual's name. To those men and women, to those of the Greatest Generation who fought for the rights of people everywhere to self-rule (reinforced through powerful exhibits at the Eisenhower site in Abilene), and to all other military personnel who served our country, I tip my helmet to you and offer my profound thanks.