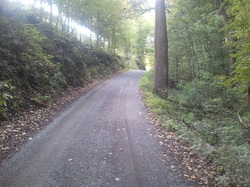 I'm rather relieved to be in Blacksburg, Virginia tonight. It was a slog today...96 miles and apparently 8,561 feet of climbing according to my Garmin GPS. "Google Maps - Bicycle version" is hereby on probation for leading me down a gravel road (Hwy 325 at left) and underestimating by a few thousand feet the climbing total. As the day wore on with continuous climbing intermingled with rapid drops, my knees offered a crescendo for Kansas. No chance, but after 340 miles and 19,900 feet of climbing in the last three days, I could use some of Lance Armstrong's vitamins. I ended up plea bargaining with my legs for a short day tomorrow if they give me a cramp and leg spasm-free evening.

My apperception of western West Virginians as friendly in a freaky way is reflected in an interaction this morning. I'm climbing the umteenth hill, breathing hard and out jumps a man from behind a car parked along the road. He shouts "Take care biker. Dem rabid dogs up ahead gunna getcha" and then he smiled and waived as I passed. Gee thanks. I won't say anything more except to mention there were large swaths of human habitation in western West Virginia that lacked a dollar store. Enough said.

I'll miss the West Virginia roads for they had shoulders....thank you Senator Robert "pork barrel" Byrd. Virginia lacks that so far and made today a bit stressful. Crossing into the state, there was no "Welcome to Virginia" sign that I saw to get a picture of. I guess you're just supposed to be thankful you've arrived. I'm at a Holiday Inn that has shampoo in the bathroom (it's a concept with some merit, West Virginia) adjacent to the Virginia Tech campus. Lively night scene, even for a Monday, and I opted for the buy one-get one free burger at Sharkey's on North Main. Not to be a pig, I had the second burger to go and we'll see if it lasts until morning.

About 300 miles to go and 7,000 feet of climbing to Yorktown on the Atlantic coast.