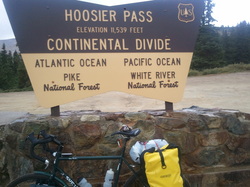 I humped over Hoosier Pass today - the highest elevation on the TransAmerica route at 11,539 ft. - and came down in the rain, settling in at the historic town of Fairplay, 10,000 ft. above sea level. Along today's 80 miles and 5,534 feet of climbing, I passed through beautiful, bike friendly Breckenridge and Alma, the highest incorporated town in the US. There was plenty of scenic Rocky Mountain milieux, cotton ball Colorado lake reflection vistas and lots of trout fishermen on the many waterways along the route.

I'm holed up at a haunted hotel in Fairplay (the Fairplay-Valiton), figuring every long-distance bike ride needs at least one haunted hotel experience. The old town has as many yoga centers (2) as bars and is most famous for its World Championship Pack Burro Race (see the Dog Blog for details).

I'm blogging several photos today in an attempt at a slide show. From reading the blogs of other bikers heading my direction, the scenery will start getting pretty nondescript soon.