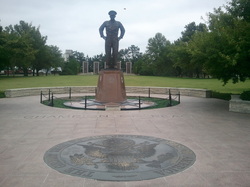 This doubler post covers my day off the bike on Monday as well as another eight hours in the saddle day on Tuesday.

I rented a car Monday and have a new found respect for internal combustion engine-powered four wheelers. I drove north to Abilene to visit the Dwight Eisenhower Presidential Museum, then east to Kansas City to exchange some broken bike parts at the only REI in Kansas, take in a behind the scenes Smokestack Beer Tour at Boulevard Brewery and capped it off with some IHOP free birthday pancakes before driving back to Newton, KS. Five whole biking days compressed into one with ample time for fun. Sweet.

I won't bore you with lots of details on the excellent Eisenhower complex, but suffice it to say that he's in my top three favorite presidents...he had a temper and made some mistakes, but his handling of the Soviets in the 1950s looks impressive compared to the two subsequent decades and he was good at not wasting money within the military. He was also an oil painter, something I dabble (albeit poorly) in. One of four presidents to paint. Without googlecheating, who are the other three? Lots of pictures today provide more explanation and read on for the answer to the question.

The winds were so bad on Sunday afternoon, permit me to repeat a conversation with the Econo Lodge receptionist which shows how the winds are messing with me. I've pulled off the highway outside Newton, a town large enough to have multiple exits leading into the city. Short on energy after a hundred miler, I called the lady and attempted to tell her where I was and to ask what exit to take...
Lodge Lady: "Sir, I can't hear you. Please roll up your windows and repeat the question."
I cup the phone to reduce the wind noise and repeat my request.
Lodge Lady: "Sir, please pull over and close all openings and repeat your question."
I'm getting frustrated, not at her but at the winds...so I step off from straddling my bike, rest it by a signpost, bend down to double check and then get in a fetal position and bark out "I'VE BEEN PULLED OVER. I'M WEARING BIKE SHORTS SO THERE'S NOTHING TO CLOSE UP AND I'M ALSO WEARING BIKE SHORTS BECAUSE I'M ON A BIIIIIICYLCE!"
Lodge Lady: "oh. sorry" and with this and thanks to basically being in a ball, I was able to get directions.

Today (Tuesday) was another eastbound day. Managed 110 miles, the first half pretty much directly into a wind but it was only 8-12 mph. Manageable. Last half it even turned a bit so it was only partially in my face. My biggest challenge today was in breathing. The two "injuries" or "aches" on this trip so far are numb fingertips (making typing challenging) and a sunburned lower lip. On the latter, my lip balm wasn't of a high enough SPF early on and it requires lots of attention. I'm a mouth breather and today I had to find that sweet spot between getting enough air without making too big an opening for the grasshoppers, crickets and BOUS's (Bugs of Unusual Size) that I stirred up and that had a tendency to bounce off my arms, chest or sunglasses.

Staying in Yates Center tonight. I hope to be on the Kansas/Missouri border tomorrow.

The other three oil painting presidents? Grant, Carter & G W Bush.