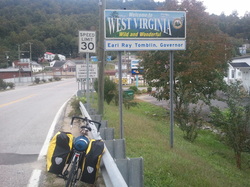 I'm in Welch, West Virginia this evening after another long day of biking - 118.5 miles and 6,136 feet of climbing. The latter is a PR (Personal Record) and included several walkupems in both KY and WV.

The most noteworthy observation today was the KY/WV border. The Kentucky side featured several discount tobacco shops, I'm guessing caused by low state taxes on nicotine products...which reminded me how much smoking took place in restaurants, motel lobbies and most everywhere outside. Cigs and canines will be what I miss least about KY - the people and scenery were quite nice. Then on the bridge crossing into West Virginia stood a couple of panhandlers in the middle of the road creating a minor traffic jam on a late Sunday morning. The drivers seemed irate at being held up and those looking for handouts seemed angry that nobody was helping them out. Bold and Beautiful and Begging..not a great first impression of the state.

I tried to schedule the long-haul ride through West Virginia on a Sunday when coal trucks would (hopefully) be less active and the Blue Ridge Parkway for early during the week when the weekend tourists are gone. So far, so good. West Virginia is blanketed with some of the best and worst people interactions on this trip. There's a genuine curiosity without inhibition here - I've had more people come out of their double wides to waive, more drivers who pull over to start up a conversation with "Mighty nice bike...what that set ya back?" (which I usually respond with some really low trashy figure and complain about how bad the bike is) and others that ask "Where ya from?" and "Where ya headed?" Then there are those who seem to revel in blaring their horns as they pass. One seemed to get such a kick out of it that it turned around and hammered on the horn coming at me. Head-on horners aren't an issue...it's the heading my way horners that jump me out of my seat a bit.