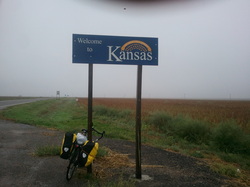 In deference to Kansas (http://www.youtube.com/watch?v=2X_2IdybTV0), the Wicked Witch of the West seems more in play on my last two days. Bad weather and mechanical breakdowns are part of the experience and bring me closer to the purpose behind my ride. Here's a summary:

I had a long ride on Thursday, managing 117 miles in getting from Pueblo, CO to Eads, CO. The TransAmerica route is generally through small town America. That's good and bad...less traffic on the roads but greater distance between services. So it was at 11:30AM that after a rainy but 70F morning that I had to choose between calling it a day at 53 miles or pushing on to the next bit of civilization at 115 miles. A roadside camp out was unlikely as cattle fences were tight to the road and what shoulder existed was occupied by nasty, pointy, prickly shrubbery. As I enjoyed my fine dining experience of Pop Tarts and an Arizona Tea on the only picnic bench in Ordway, the sun came out...surely a sign to carry on. I listened, but ran into two flats, had one of my rear panniers blow a covering bolt and popped a screw on my sunglasses. So with a one ear hook pair of sunglasses (looking rather pirate-like if I do say) and a bungeed pannier, I rolled into Eads at 6PM. Ate at the only game in town...featuring the AYCE salad bar (which I consumed) but bypassing the whiteboard specials that included 14 different types of pies ($2.75 a slice) and four flavors of jello shots ($1 each). I opted instead for an airplane-size bottle of Merlot for $2.25 from the reception of the only bed bug free lodging in town.
The weather forecast for today was 70F with a 10% chance of rain, modest wind in the face. After 700 feet of climbing all of yesterday, I knew it would be a flat (oopps, don't use that word) experience but figured conditions would be good enough. I ended up getting a mechanically sound day but it drizzled constantly and created a drip line pouring off my helmet visor onto my GPS. The temps never ramped above 51F and the Wicked Witch gave me consistent headwinds of 15-25 mph such that going 10 mph on my bike left me huffing and puffing. No trees, hills or curves in the road to buffer the wind. So I called it a day after 58 miles and am staying in Tribune, KS's only lodging, contemplating if tomorrow will be a rest day as the forecast calls for conditions akin to today, only cooler with frost warnings overnight. By Saturday, things warm up and the sun is supposed to shine. Carry On Weathered Son.