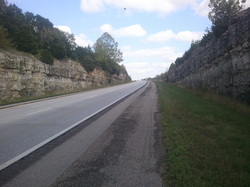 I'm halfway through Missouri, having logged 93 miles today. At the fringes of the Mark Twain National Forest in Willow Springs, Mo, the environs are interesting with ample sandstone bluffs (think the Dells, the Wisconsin Dells) and sweeping vistas of tree-filled valleys wrapped around small lakes.

My Midwestern short vowel accent sticks out in this long vowel land. City names in particular require some recalibration. I recently passed Nevada, MO, pronounced NA (rhymes with hay) VA (rhymes with hay) Doh (Homer Simpson). I'm heading to Cairo, IL which is pronounced CA (rhymes with hay) ROW. At times when I am having difficulties being understood, I need to learn to slow it up and long vowel it out.

Thanks for the birthday wishes. Kathy (wife) was so sweet in offering to drive down to meet me but I tend to not know where I will end up each night. In some respects, I'm a cowboy and on a steel horse I ride. She then offered to pay for a massage wherever I ended up, but there surprisingly isn't much time for that. I'll provide more details in a typical "Day in the Life" of biking on the road tomorrow.