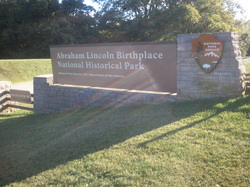 I took a "B" day (and a half) off on Thursday/Friday while my bike was getting worked on. By the time I got back in the saddle and left Danville, it was after 12:30PM Friday afternoon and I ended up with a flat rear tire three hours later and only 36 miles into my ride. It was those pesky little steel threads in car tires that get through the puncture-resistant, kevlar strip, blah, blah, blah bike tires. That's okay. I was debating biking on into a Friday afternoon touristy crowd into lands without motels and the flat offered me an excuse to bunk down in the last bit of civilization where Dollar General's are E Pluribus Unum and the waffle mix flows freely at the breakfast stations.

On my "B" day, I got the bike fixed by the helpful team at Danville Cycle (never mind the flat), viewed books and art and all sorts of neat stuff at the Boyce County library in Danville, toured a techie and a traditional bourbon making facility (French Fry has this one), toured a working cooperage that makes wooden barrels, saw some Abe Lincoln birthplace and early childhood sites (nice chatting with you Bob) and toured Bardstown, denoted the best small community to live in by USA Today. Then this morning (Friday), I took in the site of the largest Civil War battlefield in Kentucky which makes me glad I live when I do. Jeepers, a tip over and a knee scrape caused by erratic clip-in pedals could have led to an amputation back in those days.

I'll let the pictures do the talking. Tomorrow's route is through the Danial Boone National Forest past what some bike bloggers say is the least cycle-friendly stretch of the Trans Am trail. I see aspects of this already - blinker usage seems to be extra credit in Kentucky driver's exams and some pickups appear to get a kick out of creating black plumes of smoke as they accelerate on passing cyclists heading up the undulating hills in this part of the state. Lodging is limited, so blogging may be backed up and bundled together for a few days.