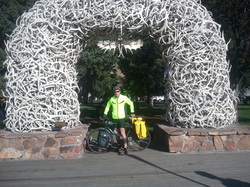 French Fry and I were able to see the World's Largest Jackalope today. Wouldn't have managed that in the desert. For more, read his blog.

Today was an ideal biking day…temps never above 80F, tailwinds part of the way (up to 20mph), a massive 17 mile 6% average grade climb to the Continental Divide and a magic carpet ride down from Togwotee Pass at 9550ft above sea level for thirty miles averaging over 20mph. Plus there were trees. And water. And mountains that turned from snowcapped to the red rock layers as I worked first north and then southeast. And the Jackalope. All told, I did 88 miles with about 4,500 feet of climbing and ended up in Dubois, Wyoming at the Stagecoach Motor Inn in another second story room.

Riding north in the morning, the Tetons were etched nicely into the blue background with the sun showcasing the ridgelines. I encountered my first construction delay…bikes have to wait for pilot cars to hitch a ride to not impede traffic flow. My driver was super nice and acted surprised when I wasn't upset at having to "miss" three miles. I'm no longer a "pedaling purist" I replied. Having given up a true cross-country route, the TransAmerican route where I picked it up has more net miles than the Southern Tier as well as more climbing and rainfall. The path heads southeast and then east through Colorado, Kansas, Missouri and eventually into Virginia (I will re-post a map shortly on the cover page) and exchanges hurricanes of the Gulf for tornados and flash flooding of the plains for wicked weather elements.

The climbing in lower oxygen wasn't as bad as I feared. Going slow, I paused once at a pond off the edge of the road and had lunch, then opted to walk up a half mile of the steepest stuff when a headwind and an 8% grade made the promenade as fast as the pedal.

Tomorrow is mostly heading south…will be rough if the winds repeat their actions.