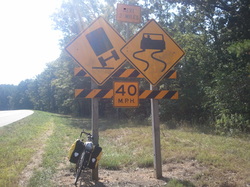 If I had a say in the Scottish referendum, I would have voted to keep the Scottish hills in Scotland and not have them exported to the oblique off-roads of Missouri. I managed 112.5 miles today in getting to Poplar Bluff, Mo. passing through more of the Mark Twain National Forest and positioning myself for a ride into Illinois or Kentucky tomorrow.

At the advice of several local bikers, I've not followed the Trans Am in this part of Missouri, opting instead to ride US 60, a divided highway with a wide shoulder and a rumble strip separating car from shoulder. That worked well until I took additional advice that led to a scenic short-cut and ran head on into some Scottish hills for four miles; walkupems that were so steep I had to rest to catch my breath while pushing the bike along. After viewing the pretty Big Springs in the Ozark National Scenic Waterway, I had to double back as the next section of the shortcut proved not paved. That cost me over two hours. At the end of the day, more a lesson than a loss as US 60, with its Irish hills, was pleasant pedaling.

Now for a bit on a typical day on the road. I've been mostly motelling over camping, favoring convenience and breakfast over the starry nights (128 hrs on the bike in 19 days of riding has made me a softy). I wake up around 6AM and do some stretching/yoga if there's room in my room. My calves remain really tight, and French Fry is not a good yoga partner (he only does Down Dog). I then inhale breakfast, eating an embarrassingly lot (my GPS says I've pedaled off 89,359 calories on the road), trying to find 1,500 calories of things I can't easily transport on my bike, things like eggs, yogurts, milk, fruit and fill in with some starch. Next, the bike is packed, sunscreen is layered in and my four water bottles are filled. Around 8-8:30AM, it is on the open road where I let conditions and attractions drive the day's direction. I try to find one stop-worthy spot to break up the ride. If not, I will picnic in a shady, scenic overlook if possible. As the day wears on, so do I and more shorter breaks, convenience foods from my pack stash and water bottle refills at gas stations are in order. Between 5-6PM is typically lodging look-out time. After check-in, I shower, wash my clothes and hang them to dry and set up a recharging station where the GPS, phone and MP-3 player all plug into the laptop to replenish their batteries. Concomitant, I walk around to replenish my stored energy reserves. Sometimes that's a restaurant if I can find an AYCE buffet, but more often than not, it is a grocery store. That's because a "meal" needs to be tripled to get me feeling satisfied. Back in my room between 7-8PM, I address issues with my packs, bike, etc. and then contact my family, respond to E-mails, blog and do some research on the next day(s) path and pursuits. I try getting to bed by 11PM. Hope that provides some perspective.